So the time has come to replace some old, outdated products, and you're thinking about going with something that's a bit more energy-efficient. Congratulations, you've made the right choice. Practicing energy efficiency at home is one of the best ways to save energy and lower your utility bills. And, using energy-efficient appliances and other products is the easiest way to get started.
Today, finding the best energy-efficient products is effortless thanks to the Energy Star program. Use this guide to choose which energy-efficient products will be the best investment for you, and learn how you can use these products to gain maximum energy savings.
What Is Energy Star?
Energy Star is a program created for American consumers by the U.S. Environmental Protection Agency (EPA) and backed by the U.S. Department of Energy. The program was established to aid consumers in their quest to purchase energy-efficient products. The Energy Star program has two main goals:
Reduce greenhouse gas emissions and other pollution caused by inefficient energy use.
Make it easier for the consumers to find and purchase energy-efficient products that help them save on energy bills without sacrificing features, comfort, or performance.
How Does a Product Get To Wear the Energy Star Label?
Products that meet the EPA's extremely high energy-efficiency standards receive the honor of wearing an Energy Star label. The label signifies their compliance with the department's approved efficiency metric. These are the EPA Guidelines that products must meet to earn the Energy Star label:
Provide a nationwide contribution of significant energy savings.
Offer increased energy efficiency while also meeting consumer demand for features and performance.
Provide high energy savings that are substantial enough to lower utility bills sufficiently so that there's a healthy return on investment within a reasonable amount of time.
Reach energy efficiency through nonproprietary, broadly available technologies offered by multiple manufacturers.
Measure and verify energy consumption and performance.
Labeling with the Energy Star seal effectively distinguishes products and makes them more visible to consumers.
Why Buy Energy-Saving Appliances and Products?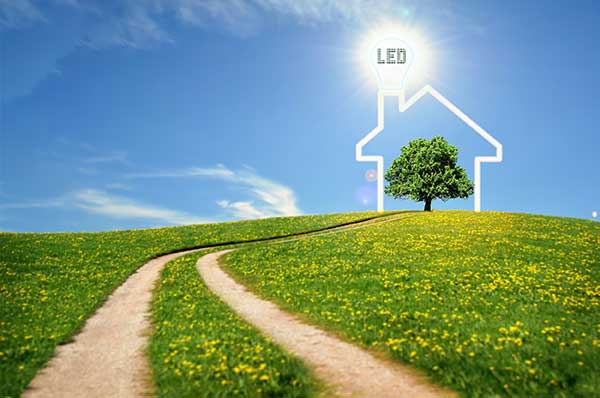 source
There are three compelling reasons that you should invest in energy-saving appliances and other products as soon as you possibly can.
1. We're Getting Dangerously Low on Fossil Fuels
Our primary energy sources are fossil fuels like coal, oil, and natural gas. These are non-renewable resources created deep below the Earth's surface over a timespan that takes millions of years.
Unfortunately, we're using them at a rate so fast that we're becoming dangerously close to depleting them within our childrens' lifetime. But, if we slow down our energy consumption, we can prolong the existence of fossil fuels.
2. Greenhouse Gas Emissions Are Destroying Our Planet
Burning coal produces greenhouse gas emissions that contribute to global warming, acid rain, smog, and soot.
Fortunately, there are now many renewable energy resources and energy-efficient products. We're able to cut back on our energy use without having to make drastic changes to the way we live.
3. Energy-Efficient Products Put Money in Your Pocket
The third and final benefit of buying energy-efficient appliances and other products may be the one that offers the most personal reward: money. The U.S. Department of Energy, as well as various state governments, provides special offers, rebate programs, and tax credits to homeowners who use Energy Star products. It just takes a few minutes to search online for incentives and policies that your state offers.
Add these savings to the lower energy costs that your energy-efficient products provide, and it won't be long before you start to notice significant savings. You probably already have an idea where you can invest that extra money.
What Types of Energy-Efficient Products Carry an Energy Star Label?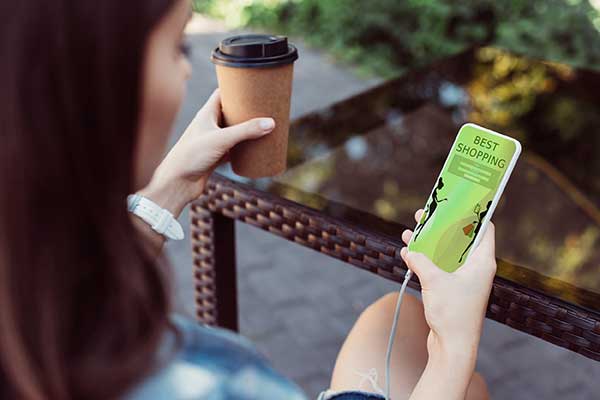 source
Perhaps it would be quicker to ask what products they don't rate, but that wouldn't be very fun, would it? Let's look at some of the different types of products you can purchase that carry the Energy Star label, along with links to Energy Star's 2021 top picks for efficiency. You may want to grab a pen and paper so you can start making a wish list.
Appliances
Lighting
Building Products
Electronics
Heating and Cooling
Water Heaters
Other
What Are the Best Energy-Efficient Products and Appliances for At-Home Energy Efficiency?
There are, as you can see, a boatload of energy-efficient products available for at-home use. Not everything will be for you, but the beauty of energy conservation is that you can pick and choose from all the options available. Customize your efforts to your lifestyle.
It probably goes without saying that your major appliances — refrigerator, dishwasher, oven, clothes washer, dryer, and water heater — should be the first that you replace with Energy Star label appliances. However, there are a few additional energy-efficient products that you should strongly consider putting at the top of your list. These are some of the essential energy-efficient products to invest in for your home.
Smart Thermostats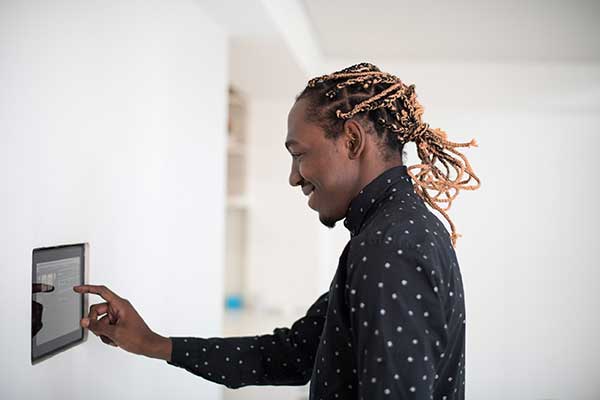 source
It's true — automatic thermostats are pretty convenient. If you have one, you may think that since you can already "set it and forget it," you don't need anything more. Well, there's an argument for that. Smart thermostats have become widely popular, and there's a reason for it. Staying up to date on your home's energy use can take quite a bit of effort, but with a smart thermostat, you're no longer left to guess.
You see, smart thermostats do a lot more than just control your home's climate according to how you set them. They have the ability to learn your schedule and preferences, helping you save energy by automatically adjusting the temperature based on weather, how many people are in your home, and a variety of other factors. Once it gets to know you, your smart thermostat will keep your home's temperature just how you like it, all on its own. And if you do need to make adjustments, it's easy to do with a remote or on an app.
Some models can even give reminders when it's time to change your air filter. They can also help diagnose problems with your A/C unit and help you keep tabs on your energy use in real-time, regardless of your location.
According to Consumer Reports, the 2021 top-scoring smart thermostat models are made by the Ecobee, Honeywell Home, and Google Nest brands.
Heating and Air Conditioning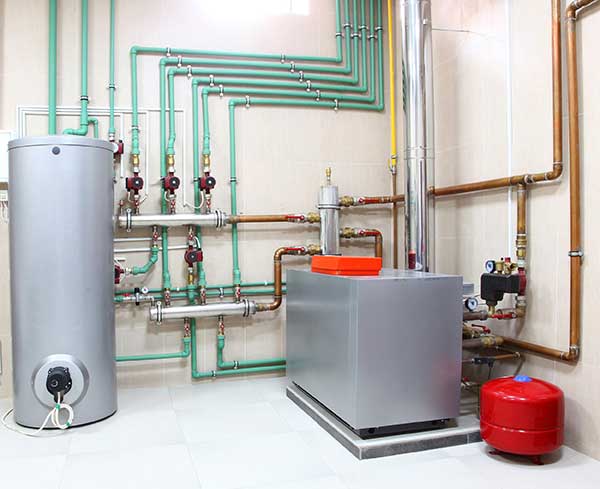 source
We've been using natural gas to heat our homes since the mid-19th century. Fortunately, technology has evolved substantially since then. We now have a variety of energy-efficient products to choose from for heating and cooling our homes.
If you're interested in a renewable energy option, consider investing in a geothermal heat pump system. These eco-friendly systems heat homes during frigid winters and cool them during the heat of the summer. Heat pump systems utilize the Earth's consistent temperature to help regulate your home's climate. Geothermal heat pumps are among the products recognized as Energy Star's most efficient in 2021.
Another option is to go with one of the industry's top heating systems, which achieve an incredible energy-efficiency rate as good as 98.5%. With a system like this, which runs on natural gas, you have the potential to cut your energy bills and pollution output by half.
That's pretty great, but there's plenty of room for more savings. When you install a high-efficiency air conditioner, you can reduce your air conditioning energy consumption by up to 50%. In these systems, the unit recycles the water it uses to run, rather than consuming it.
Plus, most of the top units are reliable in extreme temperatures as high as 131 degrees Fahrenheit. And, in the event of a natural disaster, many models will run on a generator.
Energy Star awarded a wide range of heating and cooling products with the honorable best efficiency in 2021 title.
Light Bulbs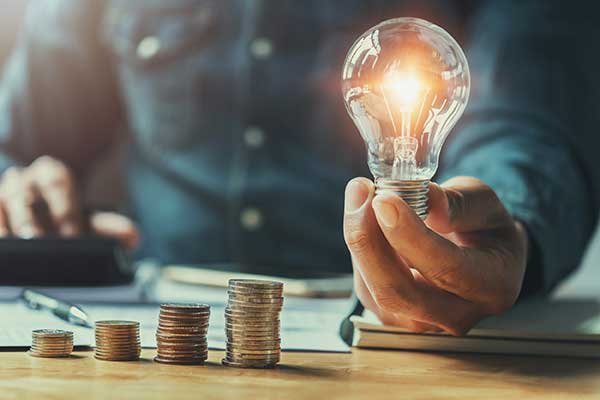 source
Light bulbs, really? Yes, really. Changing your old incandescent light bulbs out to Energy Star light-emitting diode, or LED light bulbs, is one of the least expensive ways that you can increase the energy efficiency of your home. Swap out five of your most frequently used bulbs for ENERGY STAR label light bulbs, and you can save up to $75 a year. Think of the amount of energy and money you would save if you changed every light bulb in your house.
Windows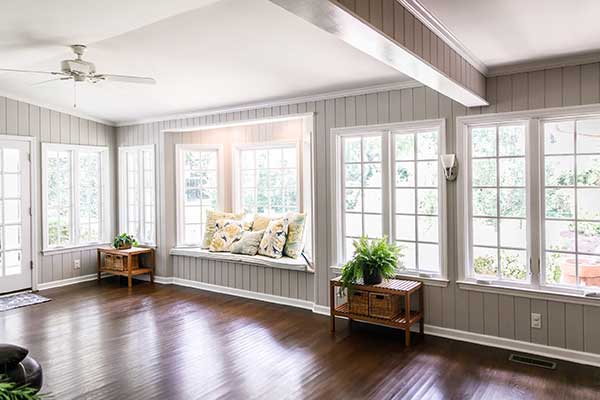 source
According to the United States Department of Energy, you can lose around 30% of your home's heat through the windows in cold climates. During hot weather, about 76% of sunlight can enter standard double-pane windows as heat. When it's time for window replacement, choose ENERGY STAR label models designed for your area to save up to $500 per year in energy costs.
A variety of window styles, including sliding doors, received the Energy Star 2021 most energy-efficient product recognition.
9 Additional Ways To Save Energy and Save Money Using Energy Star Appliances and Products
Of course, simply owning high-quality energy-efficient products isn't the only way to use less energy. Let's look at some additional steps you can take to get the most significant energy savings out of your Energy Star appliances and products.
Which Energy-Efficient Products Will You Choose?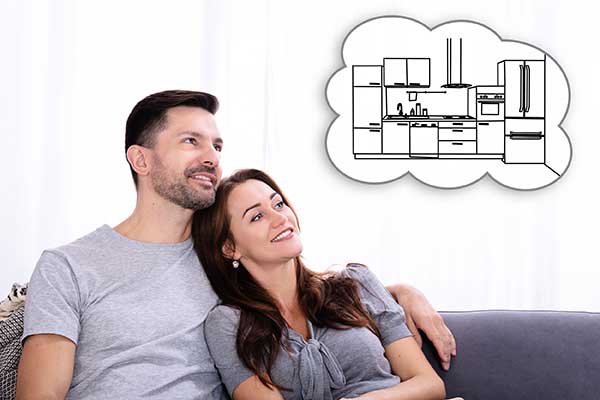 source
You can take comfort in knowing that you don't have to sacrifice features, comfort, or performance to bring energy efficiency into your home. There are plenty of ways to save energy with energy-efficient products from refrigerators to roof products and freezers to furnaces. Once you have an idea of which products you're going to choose, peek at the Energy Savings marketplace to make sure you're getting the best energy rates for your area.
Brought to you by energysavings,com
All images licensed from Adobe Stock.
Featured image: